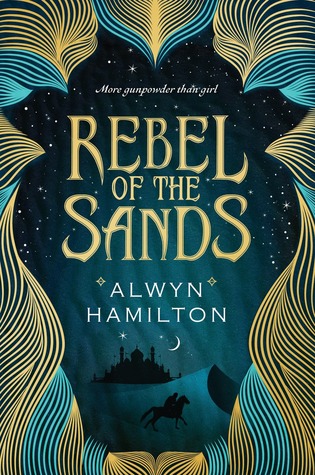 Rebel of the Sands (Rebel of the Sands #1) - Alwyn Hamilton
She's more gunpowder
than girl—and the fate of the desert lies in her hands.
Mortals rule the desert nation of Miraji, but mystical beasts still roam the wild and barren wastes, and rumor has it that somewhere, djinni still practice their magic. But there's nothing mystical or magical about Dustwalk, the dead-end town that Amani can't wait to escape from.
Destined to wind up "wed or dead," Amani's counting on her sharpshooting skills to get her out of Dustwalk. When she meets Jin, a mysterious and devastatingly handsome foreigner, in a shooting contest, she figures he's the perfect escape route. But in all her years spent dreaming of leaving home, she never imagined she'd gallop away on a mythical horse, fleeing the murderous Sultan's army, with a fugitive who's wanted for treason. And she'd never have predicted she'd fall in love with him...or that he'd help her unlock the powerful truth of who she really is.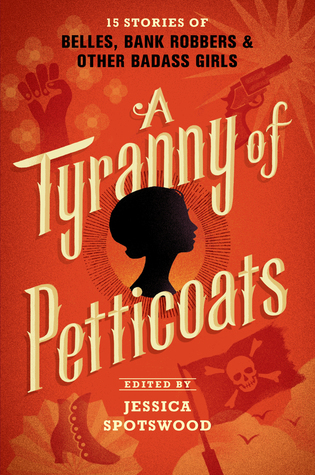 A Tyranny of Petticoats: 15 Stories of Belles, Bank Robbers & Other Badass Girls - Jessica Spotswood
From an impressive sisterhood of YA writers comes an edge-of-your-seat anthology of historical fiction and fantasy featuring a diverse array of daring heroines.

Criss-cross America — on dogsleds and ships, stagecoaches and trains — from pirate ships off the coast of the Carolinas to the peace, love, and protests of 1960s Chicago. Join fifteen of today's most talented writers of young adult literature on a thrill ride through history with American girls charting their own course. They are monsters and mediums, bodyguards and barkeeps, screenwriters and schoolteachers, heiresses and hobos. They're making their own way in often-hostile lands, using every weapon in their arsenals, facing down murderers and marriage proposals. And they all have a story to tell.

With stories by:
J. Anderson Coats, Andrea Cremer, Y. S. Lee, Katherine Longshore, Marie Lu, Kekla Magoon, Marissa Meyer, Saundra Mitchell, Beth Revis, Caroline Richmond, Lindsay Smith, Jessica Spotswood, Robin Talley, Leslye Walton and Elizabeth Wein.
Fler nya boksläpp
Svenska böcker/översättningar
Mina tankar
Så många efterlängtade och spännande böcker som släpps den här veckan! Rebel of the Sands, A Tyranny of Petticoats, Map of Fates, Lady Midnight och The Steep & Thorny Way hamnar direkt på önskelistan.