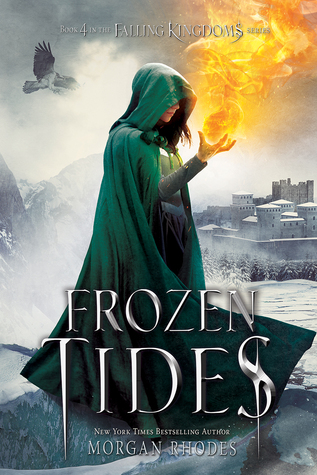 Frozen Tides (Falling Kingdoms #4) - Morgan Rhodes & Michelle Rowen
Rebels, royals, and monsters wage war ov
er the Mytican throne in the shocking fourth book of the Falling Kingdoms series, from New York Times bestselling author Morgan Rhodes.
CLEO: Reeling after a bloody showdown in Limeros ending with Amara's abduction of the water crystal, and a vacancy in the Mytican throne, Princess Cleo must cast aside her feelings and look toward her kingdom with the eyes of a Queen.
MAGNUS: With the kingdom in chaos, Princess Lucia still missing and quite possibly in danger, and a shocking realization about Cleo, the steely prince is once again torn between love and duty, leaving him wondering whether he's strong enough to rule his people.
LUCIA: The young sorcercess has had her vengeance after the cruel death of her first and only love. Heartbroken and unable to trust anyone, she allies with the awoken Fire god, who also seeks revenge.
JONAS: After escaping death by the skin of his teeth, the defeated rebel—along with a mysterious stranger–leader reunites with Princess Cleo, only to find himself a mere pawn in a dangerous hunt for the elusive Kindred.
KING GAIUS: Abandoned by Melenia and betrayed by his own children, Gaius flees Mytica and sails to Kraeshia, where he attempts to ally with the famously brutal emperor across the Silver Sea.
Fler nya boksläpp
Mina tankar
Tre fortsättningar på serier, som jag visserligen inte påbörjat, men som jag väldigt gärna vill läsa hamnar på önskelistan den här veckan: Frozen Tides, Untamed och Bloodcraft.
//Frida