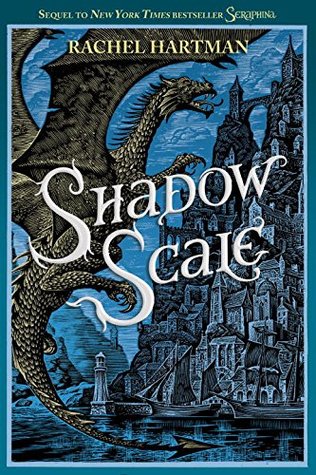 Shadow Scale (Seraphina #2) -
Seraphina took the literary world by storm with 8 starred reviews and numerous "Best of" lists. At last, her eagerly awaited sequel has arrived—and with it comes an epic battle between humans and dragons.

The kingdom of Goredd: a world where humans and dragons share life with an uneasy balance, and those few who are both human and dragon must hide the truth. Seraphina is one of these, part girl, part dragon, who is reluctantly drawn into the politics of her world. When war breaks out between the dragons and humans, she must travel the lands to find those like herself—for she has an inexplicable connection to all of them, and together they will be able to fight the dragons in powerful, magical ways.

As Seraphina gathers this motley crew, she is pursued by humans who want to stop her. But the most terrifying is another half dragon, who can creep into people's minds and take them over. Until now, Seraphina has kept her mind safe from intruders, but that also means she's held back her own gift. It is time to make a choice: Cling to the safety of her old life, or embrace a powerful new destiny?
She is a princess. When the Indigo Kingdom conquered her homeland, Wilhelmina and other orphaned children of nobility were taken to Skyvale, the Indigo Kingdom's capital. Ten years later, they are the Ospreys, experts at stealth and theft. With them, Wilhelmina means to take back her throne.
She is a spy. Wil and her best friend, Melanie, infiltrate Skyvale Palace to study their foes. They assume the identities of nobles from a wraith-fallen kingdom, but enemies fill the palace, and Melanie's behavior grows suspicious. With Osprey missions becoming increasingly dangerous and their leader more unstable, Wil can't trust anyone.
She is a threat. Wraith is the toxic by-product of magic, and for a century using magic has been forbidden. Still the wraith pours across the continent, reshaping the land and animals into fresh horrors. Soon it will reach the Indigo Kingdom. Wilhelmina's magic might be the key to stopping the wraith, but if the vigilante Black Knife discovers Wil's magic, she will vanish like all the others
Fler nya boksläpp
Svenska böcker/översättningar
Mina tankar
Äntligen är uppföljaren till fantastiska Seraphina här. Som jag längtat! När jag skrivit min tenta på fredag ska jag fira med en bokbeställning och den kommer definitivt att finnas med där. Jag är dessutom väldigt nyfiken på Jodi Meadows nya fantasyserie, The Orphan Queen. Andra böcker jag är intresserad av den här veckan är The Infinite och Dance of Fire. Många bra svenska översättningar den här veckan också: Det sista imperiet, Anna och den franska kyssen och Fangirl.